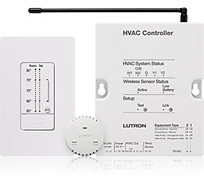 Part A Part B Part C
Add temperature control to the RA2 system for increased convenience and energy savings. Control temperature from keypads or mobile devices.
The three-part system design puts each component where it makes sense.
The temperature control is designed to work with the RadioRA 2 System. It provides energy savings in an aesthetically pleasing design. Using the Services of a qualified HVAC installer is recommended
The 3 part Temperature Control Package

(1) LRF2-TWRB-SW
(1) LR-HVAC-1-WH
(1) LRD-WST-F-WH

A) The SeeTemp part# LRD-WST-F-WH
can be mounted anywhere even on an exterior wall.
B) The wireless temperature sensor part# LRF2-TWRB-SW
allows the temperature to be measured in the optimum location.
C) The HVAC controller part# LR-HVAC-1-WH installs out-of-sight.
View the Thermostat Brochure View the Temperature Control Brochure