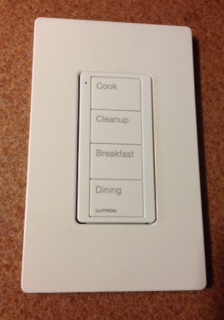 image© 2018 Lutron Electronics
Lutron RadioRA 2 Connect Bridge
The Lutron Connect Bridge creates a link between a RadioRA 2 system and the Lutron Cloud, which will allow you to have remote access from the Lutron connect bridge to your lighting system.
There are no annual fees once you purchase the connect bridge and attach to your home router.
* This is the new bridge for Apple HomeKit
Click here to learn more about the RadioRA 2 Connect Bridge and HomeKit
LMJ-5T-DV-B Dimming Module 0-10V Control.
The RF Dimming Module with 0–10 V- control is a radio frequency (RF) control that operates 0–10 V- controlled fluorescent ballasts or LED drivers based on input from the RadioRA 2 systems.

• 0-10 V- control link automatically sources or sinks up to 60 mA to third-party fixtures.
• Switches line voltage up to 5 A.
• Configurable high- and low-end trim.
• Various operating voltages available—refer to model number chart below for details on voltage requirements.
• Utilizes Lutron Clear Connect RF Technology
• Mounts to an electrical junction box through a 1/2 in (21 mm trade-size) knockout opening.
* Does require the Level 2 programming software