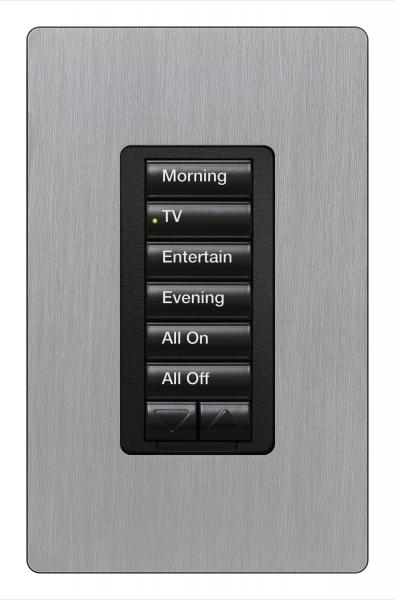 image© 2020 Lutron Electronics Co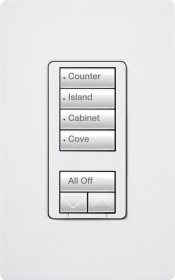 image© 2020 Lutron Electronics Co
RRD-H6BRL Hybrid Keypads can be installed anywhere
This "Hybrid" keypad has a 450 watt dimmer built into the top button and simply replaces a standard dimmer. (there is no neutral wire needed) The top button controls the attached lighting load, while other buttons control additional dimmers or switches that you have assigned to them. The top button must be assigned to an incandescent, halogen or magnetic LV lighting load.
Note: This built in Hybrid button but will not control cfl or led loads
Click here to view the standard hybrid keypad options
RRD-HN6BRL Hybrid Keypad with a C.L dimmer built in
There is a new C.L Hybrid keypad where the built in dimmer will be able to control cfl and led loads. This is exciting news as the keypad will now allow you to replace an existing switch or dimmer without having to "cut in" The Hybrid Keypad functions as both a dimmer and keypad button which is combined into a single device, this is great for retro-fit since they eliminate the need to install two separate devices. Imagine how convenient this would be for your application.
Note: C•L hybrid keypads do require a neutral-wire.
Click here to view the new C.L hybrid keypad options
The most popular keypad is the 6 button with raise/ lower


Pico Controllers are a vital part of a Lutron RA 2 and RA 2 Select system
Below you will see the variety of 2 and 4 button pico scene controllers to enhance your living space they can be easily wall mounted or placed on a pedestal for use on a coffee or bedside table. They are an affordable solution for kitchen Islands to create the right lighting level for preparation, dining and clean up. The new engraved pico controllers will operate with all three systems.
. RadioRA 2, RadioRA 2 Select and Caseta Wireless.